Shopping Cart
Your Cart is Empty
There was an error with PayPal
Click here to try again
Thank you for your business!
You should be receiving an order confirmation from Paypal shortly.
Exit Shopping Cart
ARE YOU AN EMPLOYER? TRYING TO HIRE AND EMPLOYEE??
NEED TO VERITY THEIR EMP. ELIGIBILITY? ARE YOU CONFUSED? NEED SOMEONE ELSE TO DO IT?
WE ARE NOTARY PUBLIC BONDED AND CAN GLADLY HELP YOU WILL THIS COMPLICATED I-9 FORM!!
FOR ONLY $59.99 (when you mentioned "vistaprint"!) 
CALL US NOW! (818)335-4462
WE ARE LOCATED AT:
505 SAN FERNANDO MISSION BLVD., SAN FERNANDO, CA 91340
SERVING THE FOLLOWING Neighborhood Zipcodes, FOR MORE THAN 15 YEARS!

» 91201 - Glendale
» 91303 - Canoga Park
» 91306 - Winnetka
» 91307 - West Hills
» 91311 - Chatsworth
» 91316 - Encino
» 91324 - Northridge
» 91331 - Pacoima
» 91335 - Reseda
» 91342 - Sylmar
» 91343 - North Hills
» 91344 - Granada Hills
» 91345 - Mission Hills
» 91356 - Tarzana
» 91364 - Woodland Hills
» 91372 - Calabasas
» 91401 - Van Nuys
» 91402 - Panorama City
» 91413 - Sherman Oaks
» 91423 - San Fernando Valley
» 91501 - Burbank
» 91601 - North Hollywood
» 91604 - Studio City
» 91608 - Universal City
» 91617 - Valley Village
you can find us at:

web: asapapostillesnotaryservices.co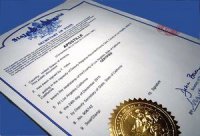 Mobile California Apostille Agents-
Call:(818)335-4462
TYPES OF CALIFORNIA APOSTILLES - FEDERAL and STATE CERTIFICATIONS - ATTESTATIONS
E-Mail:
[email protected]
** Our Mobile California Apostille pick-up and delivery Service is only available in Los Angeles Counties. Other areas must use mail-in service
Call  or Text us at (818)335-4462 for additional details.
All Rights Reserved
The California Apostille (Apostille Stamp) is an authentication issued by the California Secretary of State for non-federal documents, certifying the signature(s) of documents destined for countries belonging the
Hague Convention
. Only the signature of a California Notary Public and the following California officers and their deputies may be apostilled in the State of California: County Clerk or Recorder, Court Administrator of the Superior Court, Officers whose authority is not limited to any particular county, Executive Clerks of the Superior Court, Executive Officers of the Superior Court. (
The Apostille process for other states follow similar guidelines. You may call us for additional information.)
The California Certification carries the same power and bears the same signature requirements as does the California Apostille but is applicable only to documents destined for a country that does not belong to the Hague Convention. Generally speaking, this type of authentication usually requires additional legalization steps before the document may be presented in the country of destination.
The U.S. Department of State Certification authenticates the signature of the Secretary of State in which the doc was executed or the signatures of federal agency docs and courts docs executed by the District of Colombia which contain the proper elements. This type of authentication  is usually required for docs destined for Non-Hague Convention countries.
The
Clerk of the Court Apostille
certifies documents of a Federal Court of the U.S. as authentic for presentation in foreign countries. It is issued by the respective federal Clerk of the Court. This type of Apostille is applicable only to
Federal Court Documents
.
The Consular or Embassy Legalization authentication (attestation) is an additional step in the legalization /apostille process that is required by some Non- Hague Convention countries. Documents requiring this step must be additionally authenticated (attestation process) by a local consular embassy officer before they may be presented in the country of destination.
The U.S. Department of State Apostille is an authentication issued by the U.S. Dept. Of State for federal documents signed by a federal official with the proper elements that are destined for Hague Convention countries State issued documents can not receive this authentication.
"WE GET IT RIGHT THE FIRST TIME"
visit us at: 505 San Fernando Mission Blvd., San Fernando, CA 91340
       1. We review your document with you to ensure you are making theright type of request.   2. We  notarize your California documents   3. California docs are hand carried to the California Secretary of State.**  
Emergency 24 hour/same dayservice available for California Apostille.   7. Most California Apostillerequests are processed within 48 hours.     8. Your docs are hand delivered to you when completed.**
We provide private apostille service processing for all 50 states but specialize in California Apostilles. We are not a Federal or State agency.  If security and speed are high priorities for your document legalization, Mobile California Apostille is designed to meet your needs.   We are located in the state of California.  
MOBILE DOCUMENT PICKUP and DELIVERY  SERVICE PERSONALIZED APOSTILLE SERVICE
SAME DAY/24hr. PROCESSING FOR CALIFORNIA APOSTILLE FREE CALIFORNIA NOTARIZATION OF DOCS IF REQUIRED (when you mentioned "Vista Print") MOBILE CALIFORNIA APOSTILLE
WALK-IN NOTARY PUBLIC SERVICES

ONLY $5

(WE ARE INSIDE "FARMER'S INSURANCE"!)
*ANY TYPE OF POWER OF ATTORNEY*BIRTH, MARRIAGE, DEATH, DIVORCE CERTIFICATE TRANSLATIONS

(SPANISH-ENGLISH/ENGLISH-SPANISH)

* F.B.I. RECORDS REQUEST
* COURT DISPOSITIONS OF ARREST(S)
*LEGAL DOCUMENTS PREPARATIONS
(818)335-4462
CALL US NOW/LLAMENOS HOY MISMO!
WE ARE LOCATED AT: 

505 SAN FERNANDO MISSION BLVD., SAN FERNANDO, CA 91340
ASK FOR: MARIA DIAZ(NOTARY/BONDED)
TO SERVE YOU BETTER WE NOW HAVE A MOBILE NOTARY PUBLIC AVAILABLE 24/7!!!

WE SERVE ALL LOS ANGELES COUNTY:

SAN FERNANDO,PACOIMA, ARLETA, SYLMAR,


LAKE VIEW TERRACE, MISSION HILLS,


NORTH HILLS, PANORAMA CITY, SUN VALLEY, NORTH HOLLYWOOD, CA ETC....




0

/